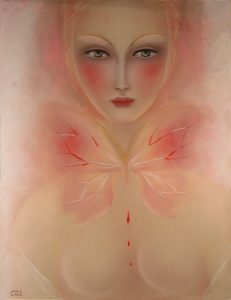 1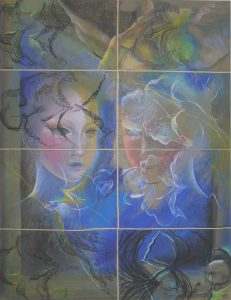 2
For a long time now, Marie-Lydie has been caressing the paper with her pastel powder, modelling the shapes of faces, bodies, playing with the light and half-light until the relief dominates, until the arms, cheeks and thoraxes jut out with a deceivingly sculptural effect, in line with the classic painters who believed that painting should thwart the very flatness of its support.
But among the illusionists of flat surfaces, isn't the pastellist the one who is supposed to refuse any kind of intermediary between himself and the material, the one who feels and crushes, his fingers impregnated with colour, straight onto the paper? And isn't he already something of a sculptor, without nonetheless actually coming face to face with the rough matter that has to be worked?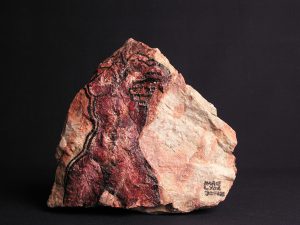 3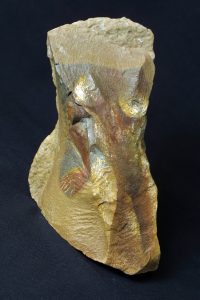 4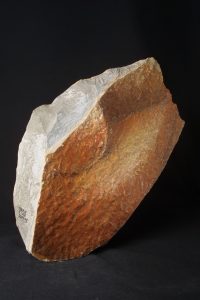 5
And yet, here, Marie-Lydie daydreams before this rugged material: a wounded stone that she came across whilst walking or that one of her sandstone or marble quarrier friends has given her. And little by little the pastellist has tamed this new medium, first using it instead of paper; but soon the Material imposed itself, no longer just as a surface, but with its asperities, its scars, forcing the attentive artist to look for the answer to this tête-à-tête in the relief itself. Because with each new stone Marie-Lydie feels a different emotion, this unique mineral reaches out to her, calling out not for a superficial gesture, but a true union with the relief: a form appears in the raw material that Marie-Lydie outlines, makes visible, brings to life. When she blends the dust from her pigments together with the mineral substance, is she drawing a sculpture, or is she sculpting a living surface, revealing the soul hidden within it?
ANNIE DEVERGNAS
Legends of the pictures :
1 Noeud-papillon. Pastel sur papier 50x65cm. 1983.
2 Les Ménines. Pastel sur papier 50x65cm. 2007.
3 Nu rose et noir. PastelLithe en Marbre de Caunes-Minervois. H20xL21xP7cm, 3kg, 1997.
4 Nu au soleil. PastelLithe en Pierre de Claret. Hérault. 2002. H23xL12xP9cm, 13kg, 1998.
5 Contre-plongée. PastelLithe en Pierre de Claret. Hérault. 2002. H21xL33xl10cm, 18kg. 1999.
French version :